Kho Kho, the game of chase: where you run faster and faster to catch your next victim.
As you get closer to a member of the other team the crowd get louder and louder and a blaring cheer erupts the hall as the player is caught out; satisfaction running through you sending shivers down your spine.
With national competitions being held in the UK for the past 4 years, Kho Kho is an upcoming and growing sport in the UK. In England there are currently around 20 teams and I think the sport deserves to be recognised for its ability to appeal to anyone and deeply rooted cultural significance towards.
Kho Kho is one of the two most popular traditional 'tag' games in South Asia, the other being Kabaddi. Kho Kho was first exhibited in the 1936 Berlin Olympics as a special feature by a single team. As an international sport, it made its first entry in 1996 in the 1st Asian Kho Kho Championship in Kolkata. The Kho Kho Federation of England was founded in 2014 aiming to reawaken the game and ignite the flare for an international platform. From the Khelo India Youth Games, which was attended by Brij Haldania (Chairman) and Rohit Haldania (General Secretary), we can see the extent of the game's depth and the talent of the brilliant players.
On 11th November 2017, the National Championship took place at Harrow Leisure Centre, London, with 10 male teams and 8 female teams. The purpose was to bring everyone who plays the sport, together in one place. With lots of advertising, people of all cultures and ages came to Harrow Leisure Centre to discover more about the sport and watch it be played. Footage from the game can be seen on YouTube, developed by a young in-house production team.
It is a sport made for all. It can be played anywhere by anyone no matter what your age is. It is a fun and exhilarating game, which keeps the players and audience on their toes.
I started playing Kho from the age of 12 and have loved the sport ever since. Coming to Loughborough University and finding out that the sport is also played across many universities, as part of the Hindu Society, shows how much the sport is growing. In September 2018, England's finest Kho Kho talent had the opportunity to represent in a series of fixtures with our guests from India. The Men's and Women's team from India are spectacular! – and the entire Khommunity here was in awe of their skill.
The first fixture was played at Hanwell Football Club, London and the second game was played at Richings Park Sports Club, Buckinghamshire. It was a great cultural experience and the teams from both nations got on really well – we even went bowling and Nandos together!
I guess the next objective would be to set up an England Kho Kho League to support the growing demand for the sport. Plans have been announced for India to start a league this year, and I am excited to see the game's representation on the big screens. I am sure there will be many happy fans to see this ancient and very popular game provide further opportunities to players and coaches. The sport has been played in England for over 20 years, by migrant communities across the country and I believe the sport will be recognised officially by Sport England soon.
There is a growing interest for the sport in England. A sport like Kho Kho is made to bring communities together and to promote an active lifestyle to the youth. For me, Kho Kho is a way of finding flow as well as getting together with friends to play a sport we all love. Kho Kho is an international sport played across South Asia (including Nepal, Sri Lanka, Korea and Pakistan) and even in parts of Africa where it is considered an indigenous sport. It's time we started hearing shouts of "Kho!" all around the world. I want other boys and girls to have the same experience as me and hopefully to find a sport they will fall in love with too.
Go Kho Kho!
Maya Patel (University of Loughborough | England Women's Kho Kho Team)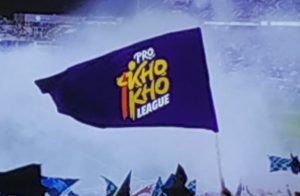 Follow –
@Kho.England on Instagram 
@Kho.England on Facebook